Back to Media Releases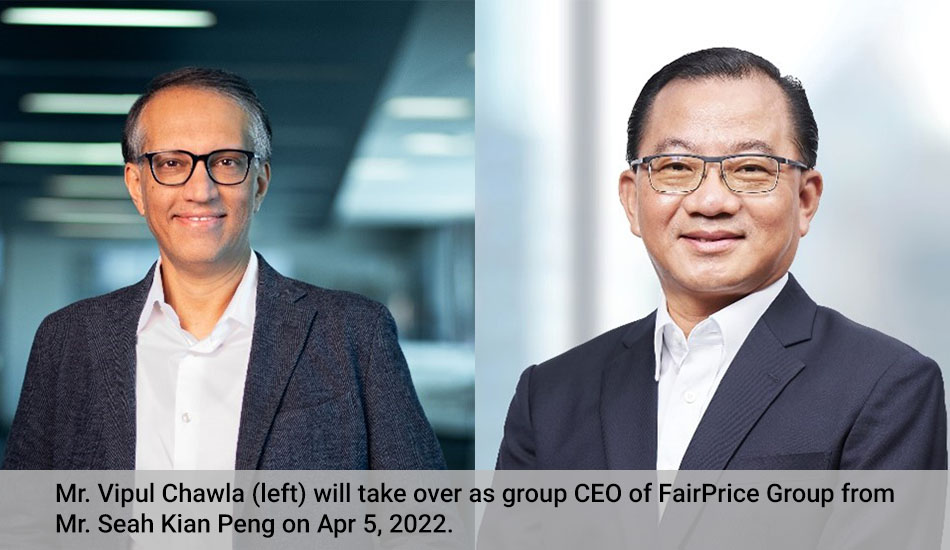 Executive Appointments – Group CEO, NTUC Enterprise (NE) and Group CEO FairPrice Group (FPG)
21 February 2022
Seah Kian Peng to focus on driving growth and transformation across NTUC Enterprises' social enterprise (SE) clusters as Group CEO, NTUC Enterprise. He will be appointed as Deputy Chairman FPG and Chairman, FairPrice Foundation.
Vipul Chawla will be appointed as Group CEO, FairPrice Group (FPG) to strengthen FPG's business objectives on Everything Food and its social mission.
NTUC Enterprise (NE) and FairPrice Group (FPG) today announced changes to its key leadership posts as part of its efforts to further strengthen its core, and talents in its management team.
Seah Kian Peng currently helms the dual roles of Group CEO, NTUC Enterprise and Group CEO, FairPrice Group. Despite the heavy responsibilities, he has served with dedication and distinction in both portfolios, facilitating the transformation of NE's social enterprises amidst the challenges of disruption, and accelerating FairPrice's physical stores and online retail growth supported by a robust supply chain strategy.
The NE group generates an annual revenue in excess of S$9 billion. It continues to intensify its drive towards growth and transformation in all its SEs clusters – from financial engines (NTUC Income and Mercatus) to social clusters (NTUC Health, NTUC First Campus, MoneyOwl and NTUC LearningHub) – to better anticipate and serve its customers' evolving needs.
FPG Chairman and the Board have prioritised succession planning. A global search was carried out to identify a replacement for the position of Group CEO, FPG, and included internal as well as international candidates.
The Board is pleased to announce that Vipul Chawla will be appointed as the Group CEO for FPG.
The ongoing transformation of FPG is a major initiative and Vipul's international experience will help FPG drive its ambitions to build an omni-channel business with a superior customer experience.
Vipul Chawla has held leadership roles in Fortune 500 companies in the FMCG (Unilever) and the Food Services industries. He joins FPG from Yum! Brands, where he served as the President of Pizza Hut International since 2018, based in Dallas, USA. In that role, he oversaw global markets spanning more than 100 countries with a revenue of US$7.5 billion and 345,000 system-wide employees.
Vipul has been involved in business transformations and successfully navigated Pizza Hut International through the pandemic. He is a strong champion of a values-driven culture built on recognition and a belief in people. Vipul is excited not just at the opportunity to help further transform FPG but also to serve its social mission and work with the Labour Movement to uplift the lives of workers.
As a Singaporean, he was involved with the Labour Movement, having been a part of NTUC's "U Circle of Friends" (which included C Suite executives in regional / global roles based in Singapore) to promote the talent pool here. In addition, through his role in Yum!, Vipul worked with food banks here to provide help and assistance to those in need.
Vipul will be a valuable addition to the FPG leadership team, whose diverse backgrounds and experience in a wide variety of industries will serve to complement each other.
Both Kian Peng and Vipul's appointments will be effective from 5th April 2022.
---

Back to Media Releases
Related Articles